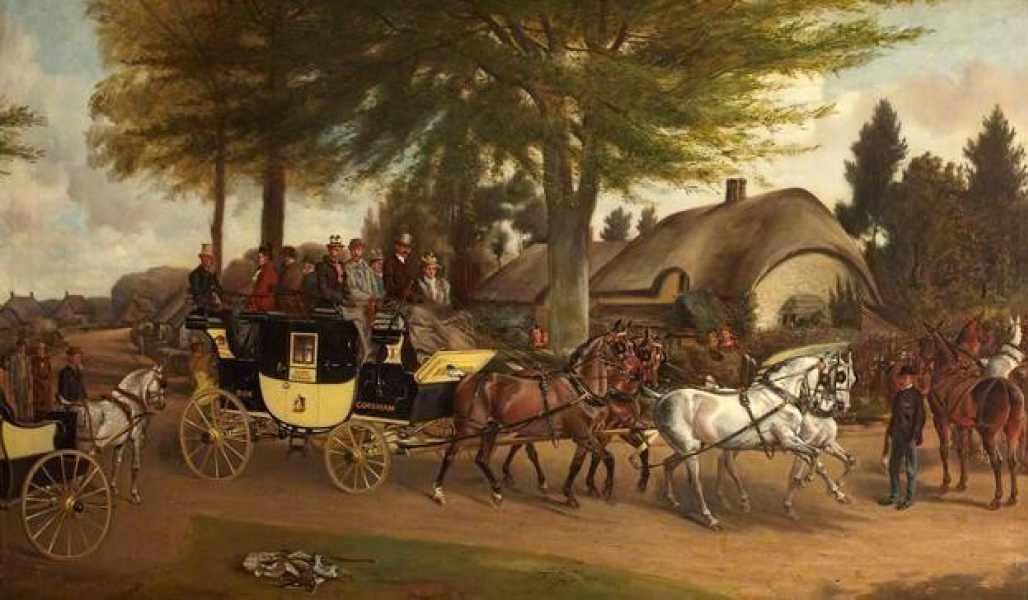 Listed in 1 collection
Listed at 1 museum
Listed for 1 maker
Quick Details
Date of Production
1892
Materials used
Paint, Wood, Canvas
Summary of The Bath to Devizes Stage Coach
The Bath to Devizes Stage Coach pulls up in a village for a change of horses. Painted in 1892 by Alfred Wheeler (1821-1903).
Full description
The Stagecoach pulls up for a change of horses. The team consists of two grey leader horses and two bay wheelers. The coach is painted yellow and black and lettered with its route. In the foreground to the left is a pony harnessed in brown harness to a gig. There are various on lookers. The fresh team stand to the right of the composition ready to be put to the coach for the next leg of the route.
Artists profile
John Alfred Wheeler (1821-1903) painter of horses and dogs. After his career in the army was cut short due to ill health he established himself as an artist based in Bath.
Access information
This painting is in the care of The Victoria Art Gallery.
The Victoria Art Gallery
Bridge Street
Bath
BA2 4AT
Picture credit
The Victoria Art Gallery