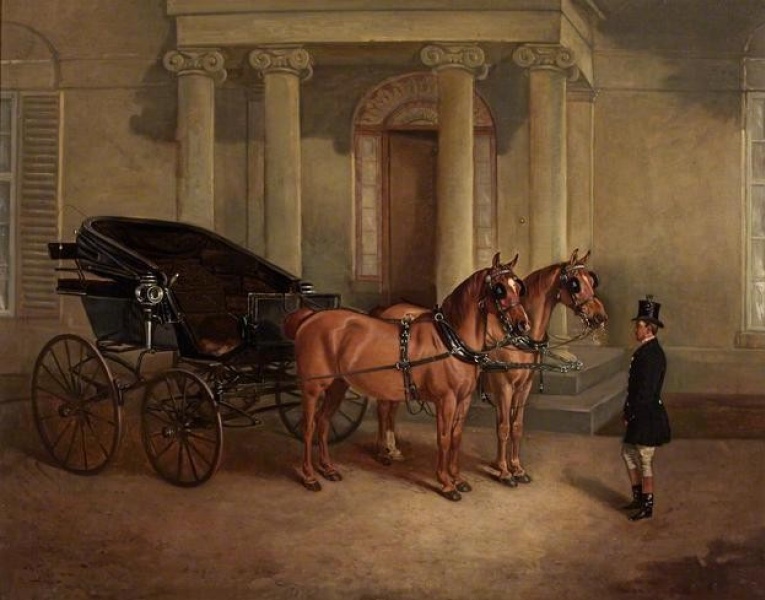 Listed in 1 collection
Listed at 1 museum
Listed for 1 maker
Quick Details
Date of Production
1875
Materials used
Paint, Wood, Canvas
Summary of Carriage and Pair at the Porch of Rode Manor
Oil on canvas painting of a pair of chestnut horses harnessed to a Demi Mail Phaeton. Painted by John Alfred Wheeler (1821-1903).
Full description
A groom dressed in a black livery coat, breeches, livery boots and a silk top hat with a cockade, stands in front of a smart pair of chestnut horses. The horses are harnessed in a black leather set of harness to a Demi-Mail Phaeton. This type of carriage was very popular amongst gentlemen in the mid to late 19th century, it would be pulled by an impressive pair of horses and was regarded as a sporty carriage. Demi-Mail Phaetons have a cut out semi circle under in the body of the carriage under the drivers seat. This made the carriage lighter in weight and in appearance as well as giving more room for the fore carriage to turn. They would seat two at the front with a folding leather head to protect the occupants from a breeze or the sunshine and a have a seat at the back for a groom.
The artist, John Alfred Wheeler, has a fine eye for detail and clearly knew about the construction and detail of carriages and harness. He has observed the leather pouch that holds a clock, hooked over the dashboard and has painted the folds of the leather head on the carriages with utmost care. The quality of the finish of this painting is almost photographic.
Artists profile
John Alfred Wheeler (1821-1903) painter of horses and dogs. After his career in the army was cut short due to ill health he established himself as an artist based in Bath.
Access information
This painting is in the care of The Victoria Art Gallery.
The Victoria Art Gallery
Bridge Street
Bath
BA2 4AT
Picture credit
The Victoria Art Gallery