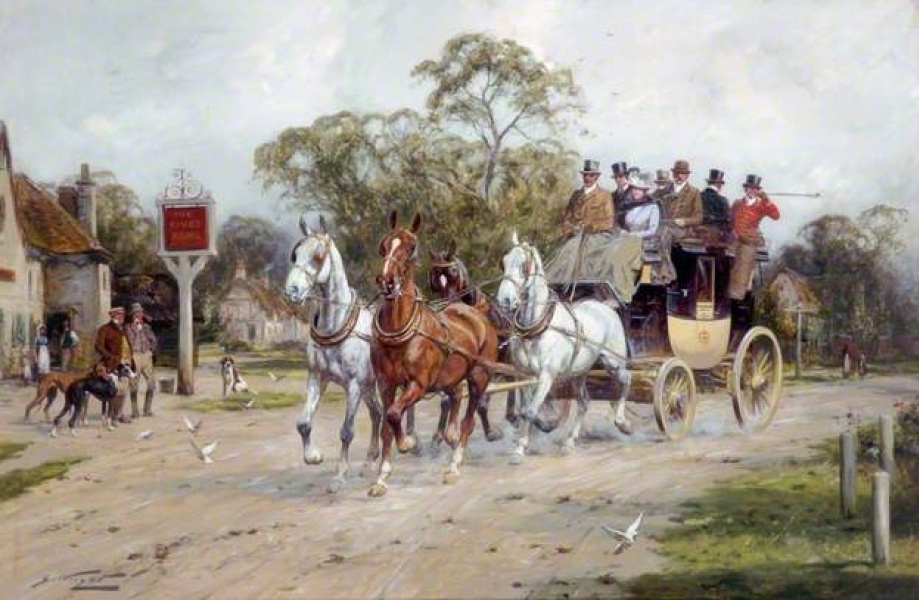 Listed in 1 collection
Listed at 1 museum
Listed for 1 maker
Quick Details
Date of Production
1900-1920
Accession or Inventory Number
WAG 2316
Materials used
Paint, Canvas
Summary of A Coach Passing the Kings Arms
A stagecoach passing a village inn at a trot. The guardsman is blowing a tune on a coach horn. Oil on canvas, painted by George Wright (1860-1942) between 1900 and 1920.
Full description
Painted after the golden age of coaching this painting falls within the sentimental art category. The scene is of a stage coach passing a village inn called the Kings Arms. The team of horses consist of a grey and a chestnut as leader horses and a grey and a bay as wheeler horses. Well dressed guests sit on the coach and a guardsman in his red coat blows a coach horn. To the left of the coach are two gentlemen, one holds two greyhounds. A Talbot dog sits by the pub sign. In the background are villagers going about their business and thatched cottages.
Artist Profile
George Wright (1860-1942) was one of five siblings, three of which were painters. He is especially well known for his hunting and coaching scenes painted in a lively manner. Wright favoured the same colour palette over and over for his paintings. It is bright and gives the impression that a warm summer light is casting over his subject matter.
Access information
This painting is in the care of National Museums Liverpool
Picture credit
National Museums Liverpool