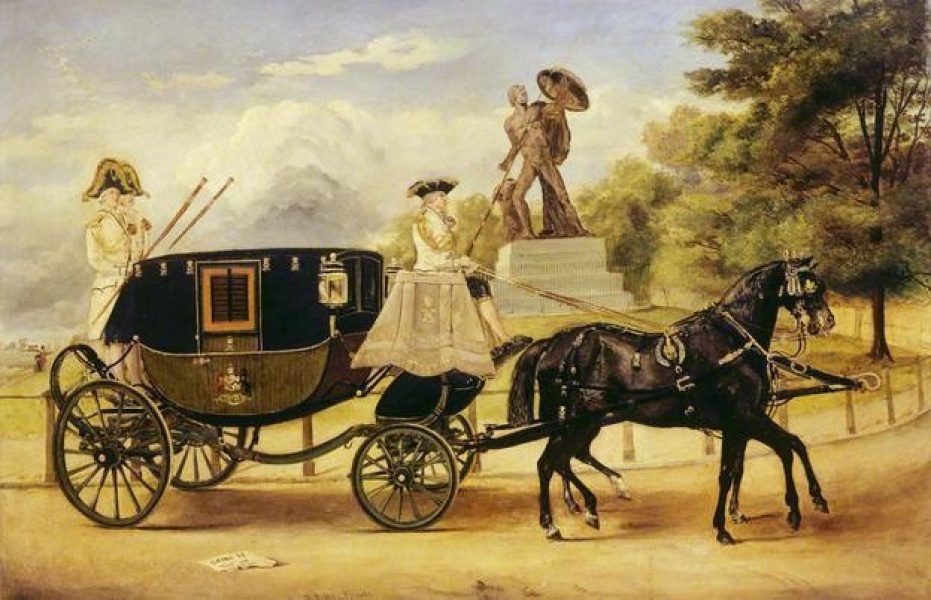 Listed in 1 collection
Listed at 1 museum
Listed for 1 maker
Quick Details
Date of Production
1856
Accession or Inventory Number
A20709
Materials used
Paint, Canvas
Summary of The Dress Carriage of Viscount Eversley in Hyde Park, London
The Dress Carriage of Viscount Eversley in Hyde Park, London. Painted by Edwin Frederick Holt (1830-1912). A fine pair of black carriage horses harnessed to a coach with a hammer cloth on the coachman's seat. Two footmen stand on the back holding standards.
Full description
This is a painting where the artist has observed his subject and depicted it in meticulous detail. The coach is a typical mid 19th century town coach painted in dark green and black, on an undercarriage with a perch and C springs and with a Salisbury boot. The hammer cloth is of a colour that matches the livery of the coachman and footmen. The windows have the shutters up, suggesting that Viscount Eversley is not riding in the coach at this moment. It was not uncommon for the nobility to send their coaches to an event empty to represent the family. The horses are in full collar black harness with rosettes on their headpieces that also match the livery.
Various features in this painting allude to combat. The sheet of paper in the foreground inscribed with 'GOING TO/TAKE UP REGULATIONS'. There is a soldier in the park on the left and the Achilles monument, erected in 1822, commemorated the efforts of the Duke of Wellington and his troops.
Artists profile
Edwin Frederick Holt (1830-1912) was born in Hampstead but spent his working life based in Dunstable. He is particularly well known for painting animals but also produced landscapes and the occasional portrait.
Access information
This painting is in the care of The Musuem of London
Museum of London,
150 London Wall,
EC2Y 5HN
Picture credit
The Museum of London