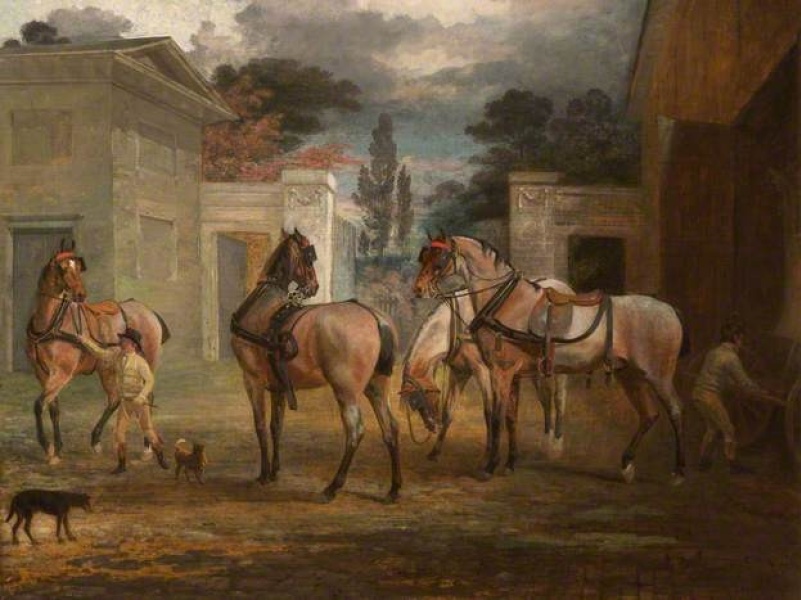 Listed in 1 collection
Listed at 1 museum
Listed for 1 maker
Quick Details
Date of Production
1792
Materials used
Paint, Wood
Summary of Four Roan Coach Horses with Two Grooms
Oil on canvas painting of a team of four roan coach horses in a yard with two grooms. Painted by George Garrard (1760-1826).
Full description
Four roan coach horses stand patiently whilst the two grooms attend to them and the carriage. On the left a groom, who is one of the postillion riders as he wears a postillion jacket, leads the offside lead horse away. This horse, as with the one pictured to the right with its head up, wears a postilion saddle. The other two horses are from the nearside. All of the horses wear red brow bands on their bridles. To the far right of the painting a groom is manoeuvring a posting chariot. Two dogs run around the horses feet. The architecture of the stables and coach houses is grand with pediments, carved stonework and a gateway that leads out into a landscaped estate.
Artists profile
Artist George Garrard (1760-1826) painted sporting subjects. He was also a sculptor and engraver.
Access information
This painting is in the care of the Tabley House Trust.
Tabley House Collection Trust,
Tabley House,
Tabley Lane,
Knutsford,
WA16 0HB
Tel: 01565 750151
Email: [email protected]
Picture credit
Tabkey House Trust