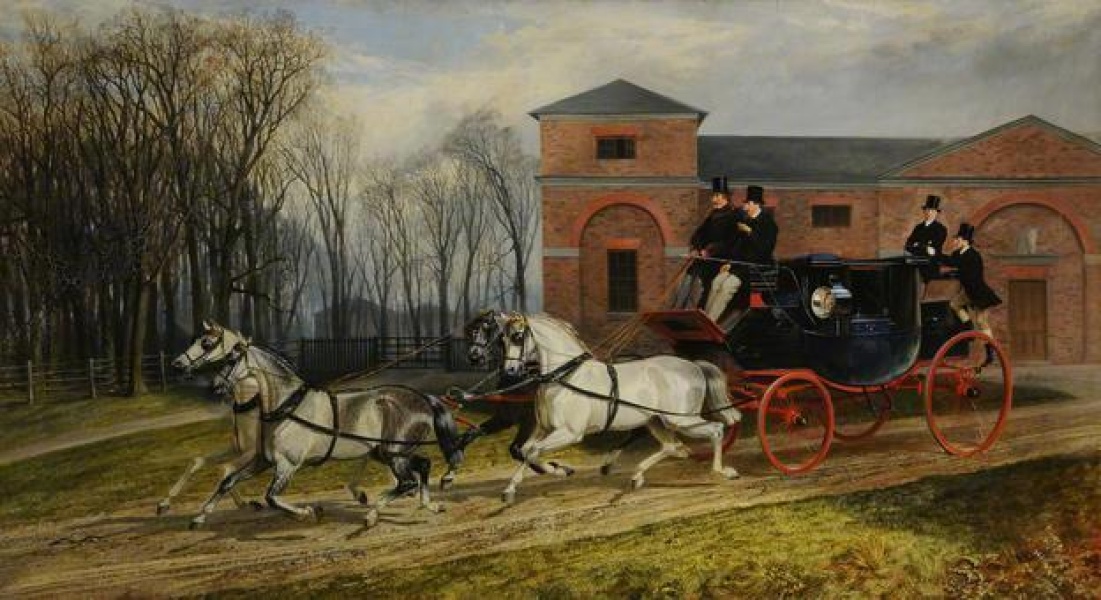 Listed in 1 collection
Listed at 1 museum
Listed for 1 maker
Quick Details
Date of Production
circa 1860
Materials used
Paint, Canvas
Summary of A Gentleman Driving a Team of Horses to a Park Drag
A gentleman drives a team of grey horses harnessed to a Park Drag past the stable block of Burton Constable Hall in Yorkshire. Painted by Joseph Walker around 1860.
Full description
Presumably one of the 'Constables' of Burton Constable Hall drives a team of greys to a Park Drag past the stable block of the house. One of the grooms has taken his seat at the back of the coach, the second groom is still in the process of climbing up. The coach has large round coach lamps and is painted in blue and black with a red undercarriage.
This painting is one of several depicting the carriage horses and carriages of Burton Constable Hall. They were all painted by Joseph Walker.
Artist profile
Joseph Walker (1831-1906) painted a number of pictures featuring horses and carriages with the occasional hunting scene. He depicts his subjects with great accuracy and seemed to have a talent for painting portraits as well.
Access information
This painting is in the care of Burton Constable Hall
Burton Constable Foundation
Burton Constable,
Skirlaugh
East Yorkshire
HU11 4LN
Tel: 01964 562400
Picture credit
Burton Constable Hall