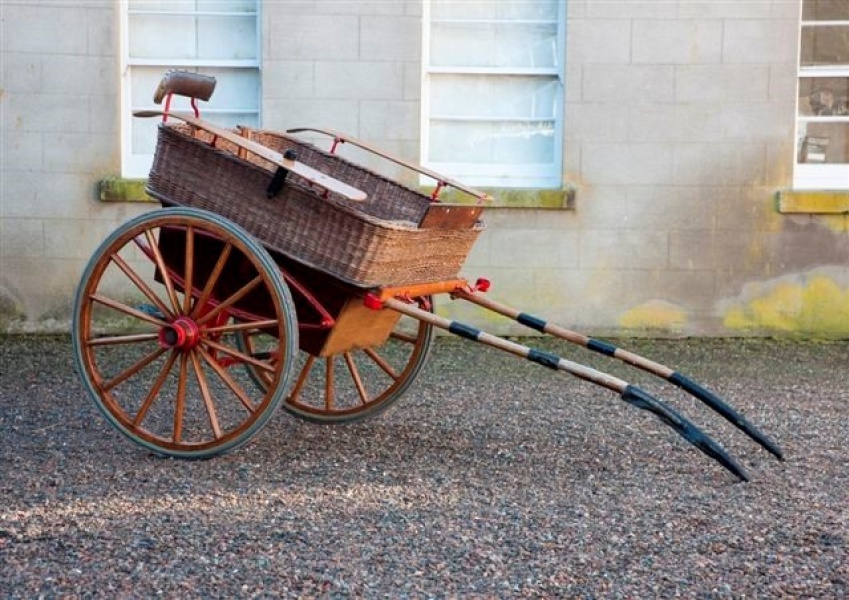 Listed in 1 collection
Listed at 1 museum
Listed for 1 maker
Quick Details
Date of Production
corca 1910
Accession or Inventory Number
NT 565726
Materials used
Paint, Wood, Iron, Leather, Brass
Summary of Governess Car
A Governess Cart with a wood body and wicker work sides, sprung on elliptic springs and varnished with red and yellow lining. Built by an unknown coachbuilder.
Governess Carts, sometimes called Tub Carts for obvious reasons, have a deep tub-shaped body with access through a door at the back, and seats each side. They were often used by a governess (hence the name), or possibly a mother, to take the children out for a drive. She would drive sitting diagonally in the back right-hand corner. Although the seat and the cushion on the right hand side have been shaped for this purpose, this would still have been difficult and uncomfortable. Only the quietest pony, or sometimes a donkey, was suitable to be driven to a Governess Car, not only because of the awkward driving position, but because it was difficult to get out quickly and run to his head if she needed to. The cranked axle allows the body to be mounted lower, dropping the centre of gravity and making it difficult to overturn.
Dimensions
Height: 4ft 4 1/2"
Length: 8ft 2 3/4"
Width: 4ft 9"
Wheel diameter: 3ft 1/2"
Full description
This Governess Cart has a body with a wood footwell and a basket work top. The seat boards are unusually narrow. A locker with a hinged lid is in the centre of the seat board at the front. The carriage has a shallow wood dashboard with a brass fillet on top edge. At the back is a door that is level with the seat level and hung on two butt hinges, the handles are missing. An oval diamond pattern stamped step allows access in to the body of the carriage. Lamp brackets are at the ends of the splinter bar, the lamps are missing.
The wheels are 14 spoke Warner wheels and rubber tyres in clincher channels on collinge axles cranked down beneath the footwell. Elliptic springs are bolted to the seat boards and clipped to the axle with deep blocks. The shafts are bolted beneath the seat boards with trace hooks on the splinter bar. Adjustable tug stops and two pairs of breeching staples fitted on the shafts.
Paintwork consists of the wheels, footwell, dashboard and shafts in varnished wood. The wings have a wood grain effect and the basketwork is varnished. The springs, axle and other iron work are painted red with fine yellow lines. The driver's seat back covered in brown leather cloth.
Inscriptions
No inscriptions
Access information
This Governess Cart is currently in the care of The National Trust at The Argory.
The Argory
144 Derrycaw Road,
Moy,
Dungannon,
County Armagh,
BT71 6NA
Picture credit
The National Trust Christopher Nicholson