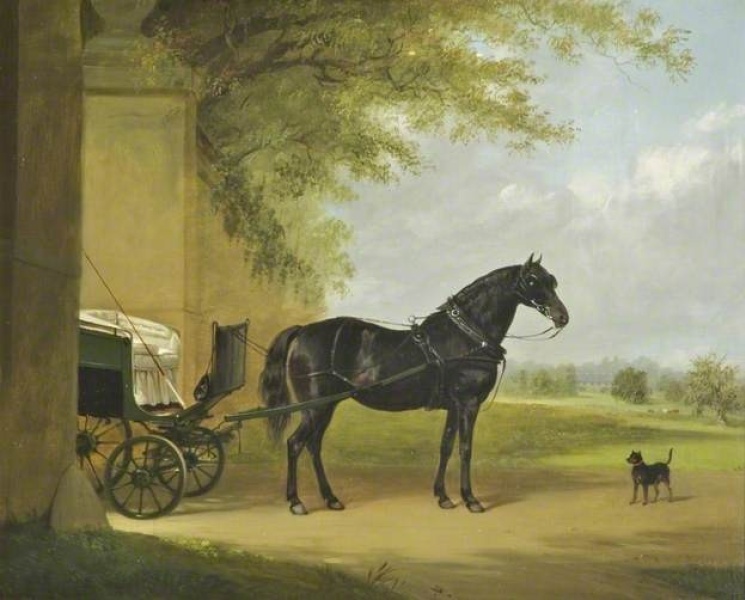 Listed in 1 collection
Listed at 1 museum
Listed for 1 maker
Quick Details
Date of Production
1846
Materials used
Paint, Canvas
Summary of Lady Katherine Molyneux's Carriage
Oil on canvas painting of Lady Katherine Molyneux's pony and carriage. Painted by Edmund Bristow (1787-1876)
Full description
A black pony stands harnessed to a phaeton that is half hidden behind the large stone pillars of a gateway entering an estate. To the right of the pony is a small black and brown dog that has had its ears trimmed. The carriage is a ladies phaeton painted green with cream seat upholstery. A ladies handbag is hung on the offside of the dashboard and a fine whip with ivory/bone carved handle is propped against the seat. The pony is shown in a set of black full collar harness with silver mounted furniture, a bearing rein is attached.
Artist profile
Edmund Bristow was born on April 1st, 1787 at Eton and lived his entire life in Windsor. His artistic talent was inherited from his father who was a heraldic painter. Bristow mainly painted beautifully observed sporting and animal subjects, as well as landscapes which often included views of his local area.
Access information
This painting is in the care of The National Museums Liverpool.
World Museum
William Brown Street
Liverpool
L3 8EN
England
Tel: 01514 784393
http://www.liverpoolmuseums.org.uk/
Picture credit
The National Museums Liverpool