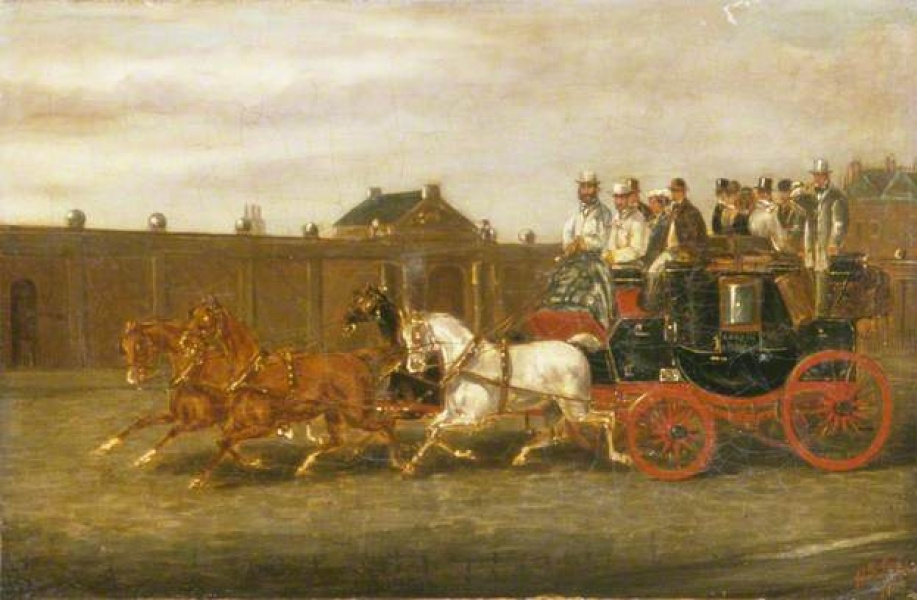 Listed in 1 collection
Listed at 1 museum
Listed for 1 maker
Quick Details
Date of Production
1860's
Accession or Inventory Number
FA000486
Materials used
Paint, Canvas
Summary of The London to Brighton Coach on the Road
The London to Brighton Stagecoach passing an industrial building. Painted by H J Jones sometime in the second half of the 19th century. Oil on canvas.
Full description
There are a number of paintings in existence by H J Jones and they all demonstrate a slight misunderstanding, on the artists behalf, of paint properties. Every one has a rather poor surface quality due to the paint having deteriorated over time having not been mixed or applied to the canvas properly. In this painting the scene is of a stage coach on the London to Brighton run, passing a building. The coach is painted black with a red under carriage is pulled by a team of two chestnut, a grey and a black horse. The coach is crammed full with paying passengers.
Artists profile
H J Jones is a little known artist. Only around 5 works are known to be by him. He was active as an artist during the mid to late 19th century.
Access information
This painting is in the care of the Brighton and Hove Museums:
Picture credit
Brighton and Hove Museums
www.brightonmuseums.org.uk