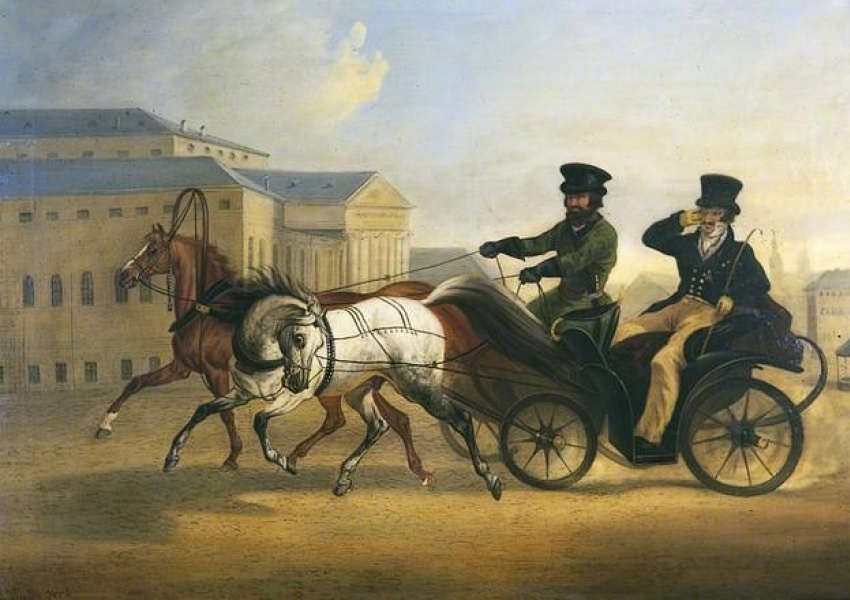 Listed in 1 collection
Listed at 1 museum
Listed for 1 maker
Quick Details
Date of Production
1825
Accession or Inventory Number
1981.33
Materials used
Paint, Canvas
Summary of Major General Norcliffe of Dalton Hall riding in a Russian Droshky
Oil on canvas painting of Major General Norcliffe of Dalton Hall riding in a Russian Droshky. Painted by David Dalby in 1825.
Full description
Major General Norcliffe rides as passenger in a Russian Droshky. The coachman drives a chestnut pony that is harnessed between shafts to a small C sprung four wheeled carriage. The grey pony is attached to the side of the chestnut to assist with the pulling of the carriage. A Droshky carriage is a small low carriage where the passenger sits astride, to the side of or along a bench that runs from the front to back of the vehicle.
Artist profile
Dalby painted equestrian scenes in an accurate, highly finished, manner. He was from a dynasty of painters based in and around York. Between 1815 and 1826 he left York and settled in Leeds but he soon returned and married a local gir with whom he had a son who went on to be an artist and a daughter.
Dalby died in 1836 and was buried at St. Michael Le Belfry Church, York.
Access information
This painting is in the care of Scarborough Museums & .
Scarborough Art Gallery
The Crescent
Scarborough
YO11 2PS
Tel: 01723 353665
Picture credit
Scarborough Museum Trust