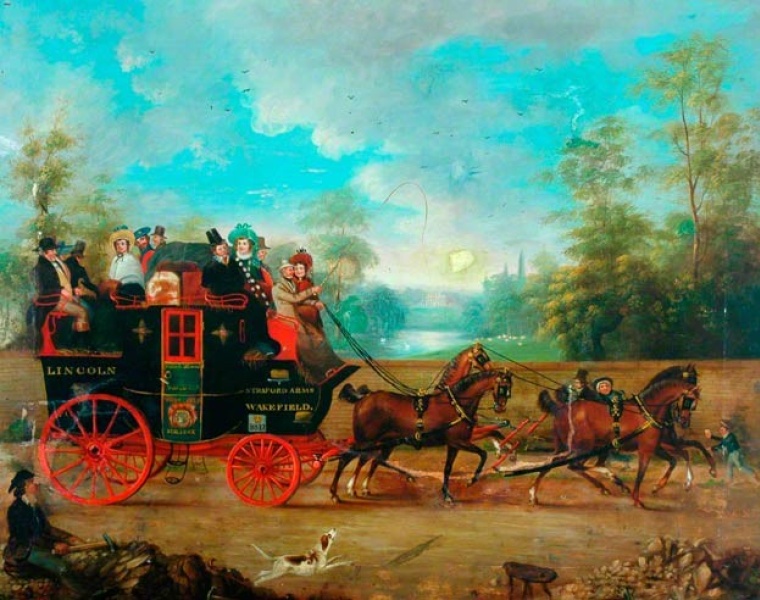 Listed in 1 collection
Listed at 1 museum
Listed for 1 maker
Quick Details
Date of Production
circa 1840
Accession or Inventory Number
1963.85/1
Materials used
Paint, Canvas
Summary of The Lincoln & Wakefield Stagecoach
An oil on canvas painting of the Lincoln to Wakefield stagecoach by Abel Hold.
Full description
A scene of the stagecoach that ran from Lincoln to Wakefield passing by a country estate. The coach is pulled by a team of bay horses in full collar harness. They have cropped tails for easy maintenance and to prevent them becoming entangled in the harness or whiffle trees. The coach is clearly painted with its route and listing the Straford Arms and is laden with passengers. On the box seat the coachman is mid conversation with a lady sitting next to him who is dressed in a red outfit and matching hat. Behind the box seat sit a gentleman wearing a top hat a lady dressed in green and another gentleman. Various other passengers sit on the rear seat with an interesting array of hats between them. Luggage is piled up on the roof between the seats making a heavily laden coach.
In the foreground a man sits with an axe by his side whilst a dog runs on towards the fast moving coach. A man, a women and a small boy can be seen behind the horses. The landscape behind is painted in a hazy blue and consists of a scene of a country house with a lake, trees and grazing sheep.
The artist has paid particular attention to the construction of the coach. The undercarriage and perch and the steps on the side of the body of the coach are all accurately observed. The artist has captured a sense of movement in his depiction of the horses and his observation of the harness is meticulous. Note the turrets on the headpieces of the horses bridles. These were in use prior to 1840 after this date rings on the sides of the wheeler bridles became more commonplace.
Artist profile
Abel Hold (1815-1896)
An artist based in Yorkshire who mostly painted pictures of game birds.
Access information
This painting is in the care of The Hepworth.
The Hepworth Wakefield
Gallery Walk
Wakefield, West Yorkshire
WF1 5AW
Tel: 01924 247360
Picture Credit
The Hepworth, Wakefield