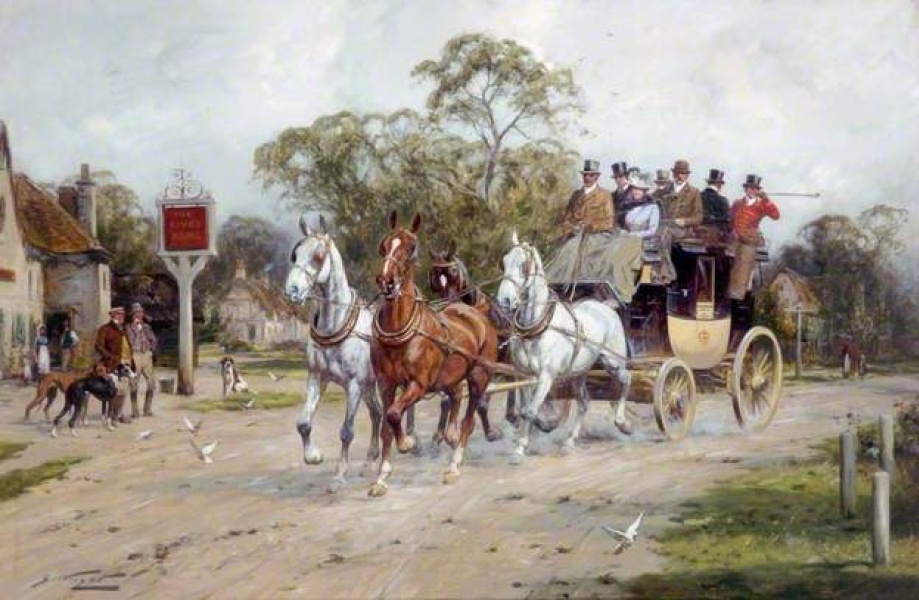 Listed in 1 collection
Listed at 1 museum
Listed for 1 maker
Quick Details
Date of Production
1900-1920
Materials used
Paint, Canvas
Summary of A Stagecoach passing the Kings Arms
An oil on canvas painting of a stagecoach passing a public house with various onlookers. Painted by George Wright (1860-1942) in the early 20th century.
Full description
A Road Coach passes a village inn. The team is mixed with two greys, a bay and a chestnut. Passengers sit on the coach and the guard on the back is blowing a horn. To the left two men stand with greyhounds. The painting is quite fluid in its style and captures a certain amount of movement.
Artist profile
George Wright (1860-1942) was one of five siblings, three of which were painters. He is especially well known for his hunting and coaching scenes painted in a lively manner. Wright favoured the same colour palette over and over for his paintings. It is bright and gives the impression that a warm summer light is casting over his subject matter.
Access information
This painting is in the care of the National Museums Liverpool
National Museums Liverpool
127 Dale Street
Liverpool
L2 2JH
England
Telephone: 0151 207 0001.
http://www.liverpoolmuseums.org.uk/
Picture credit
National Museums Liverpool