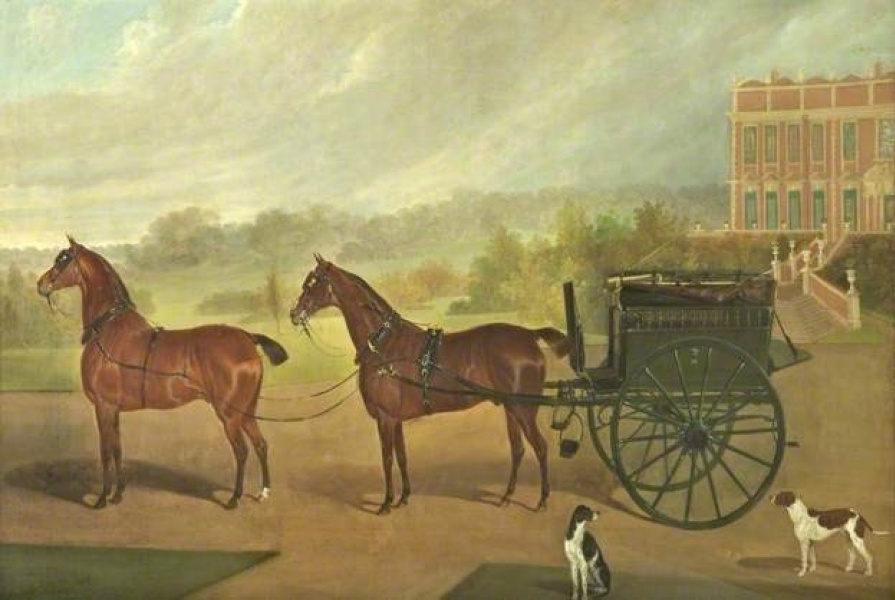 Listed in 1 collection
Listed at 1 museum
Listed for 1 maker
Quick Details
Date of Production
1833
Materials used
Paint, Canvas
Summary of Tandem of Horses Harnessed to a Whitechapel Cart
Oil on canvas painting of a tandem of horses harnessed to a Whitechapel Cart. Painted by David Dalby (1794-1836).
Full description
A bay and a chestnut horse are harnessed to a type of Whitechapel cart and standing on a drive in front of a Jacobean country house within a landscape. There are two pointer dogs in the foreground, one black and white (sitting) and one brown and white (standing). The carriage has been prepared ready for a days hunting with the gun mounted on the nearside and the tailboard open ready to load the dogs into the boot under the seat.
Whitechapel Carts were a popular choice of carriage for sporting pastimes due to the large area under the seat for transporting dogs or carrying game.
Artists profile
Dalby painted equestrian scenes in an accurate, highly finished, manner. He was from a dynasty of painters based in and around York. Between 1815 and 1826 he left York and settled in Leeds but he soon returned and married a local gir with whom he had a son who went on to be an artist and a daughter.
Dalby died in 1836 and was buried at St. Michael Le Belfry Church, York.
Access information
This painting is in the care of National Museums Liverpool
Picture credit
National Museums Liverpool