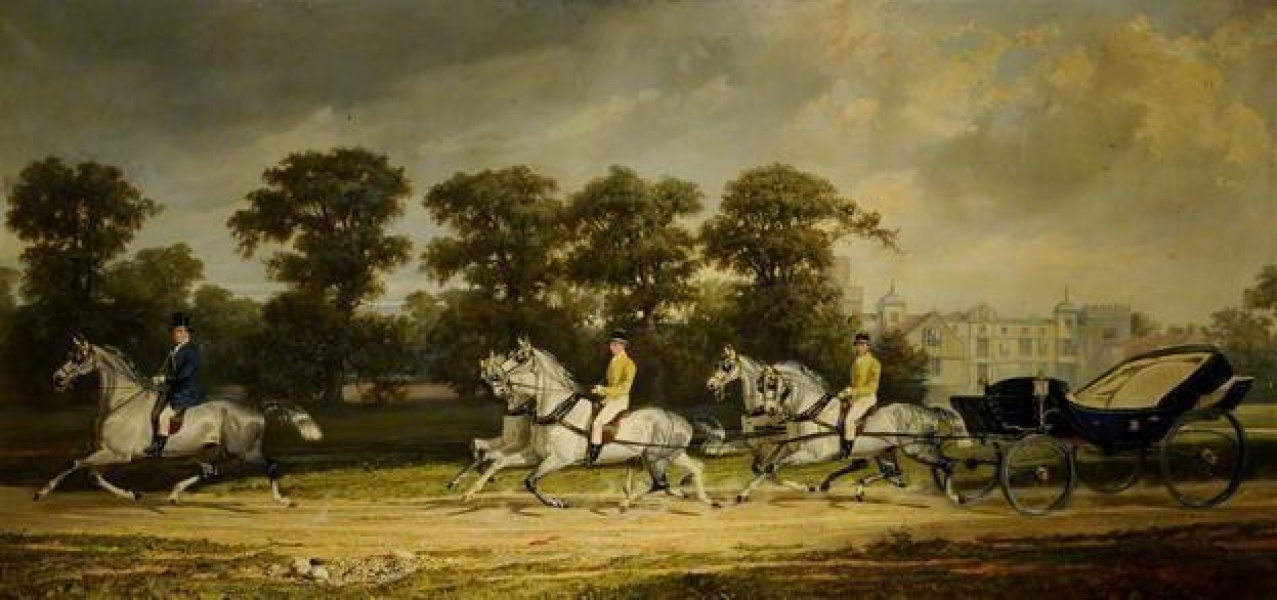 Listed in 1 collection
Listed at 1 museum
Listed for 1 maker
Quick Details
Date of Production
mid 19th century
Materials used
Paint, Canvas
Summary of A Team of Four Grey Horses with a Barouche Passing Burton Constable Hall
An impressive team of greys are driven by postilion riders and harnessed to a Barouche. An outrider rides in front. Painted by Joseph Walker in the mid 19th century.
Full description
The owners of Burton Constable Hall must have been proud of their carriage horses as they commissioned several paintings depicting the various teams of horses and estate carriages. In this painting a striking team of greys with postilion riders wearing yellow/gold livery move at a good trot passing Burton Constable Hall. The carriage is a Barouche which was a smart vehicle owned by the gentry and used for rides around parks and estates during fine weather. This is a particularly large example and therefore pulled by a team of horses, smaller Barouches could be pulled by a pair of horses.
An outrider trots on in front of the team, also riding a grey but this time in blue livery.
Artist profile
Joseph Walker (1831-1906) painted a number of pictures featuring horses and carriages with the occasional hunting scene. He depicts his subjects with great accuracy and seemed to have a talent for painting portraits as well.
Access information
This painting is in the care of Burton Constable Hall
Burton Constable Foundation
Burton Constable,
Skirlaugh
East Yorkshire
HU11 4LN
Tel: 01964 562400
Picture credit
Burton Constable Hall