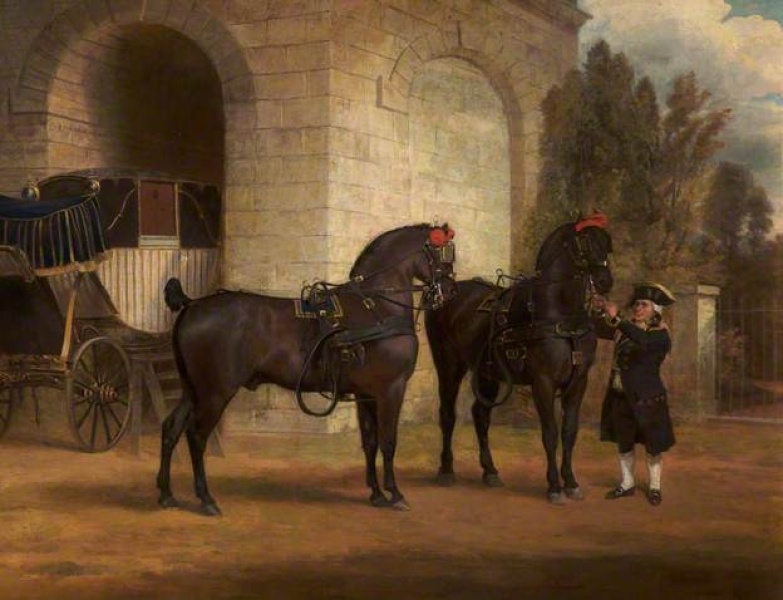 Listed in 1 collection
Listed at 1 museum
Listed for 1 maker
Quick Details
Date of Production
1791
Materials used
Paint, Canvas
Summary of Two Carriage Horses with a Groom
Oil on canvas painting of two black horses, harnessed and being attended to by a groom in livery. Painted by George Garrard (1760-1826).
Full description
Two fine black Hanovarian horses are standing whilst the groom makes adjustments to a bridle. The horses are the wearing wheeler breast collar harness with turrets on the headpieces and pads for the leader reins. Under the harness pads are under pads that match with the hammer cloth on the coach pictured in the background and with the livery that the groom wears. On the bridles are red silk rosettes that match the stripes on the coach. The horses have cropped ears and docked tails, a fashion of the 18th century.
The carriage is a Vis-à-vis Town coach seating two people inside. It is painted in beautiful white and red stripes with leather upper panels and silvered sham irons. The hammer cloth appears to be of a blue cloth with gold and red fringing. A ladder is positioned near the box seat for the coachman to mount the coach.
The horses, harness and coach in this painting must have been a very eyecatching equipage.
Artists profile
George Garrard (1760-1826) was an artist from a family of painters, some of which were painters to the Royal Household. As was a being a painter he was an engraver and sculptor, specialising in sporting scenes. He played a major role in lobbying parliament in introducing a legislation to protect artist's copyright.
Access information
This painting is in the care of the Tabley House Trust.
Tabley House Collection Trust,
Tabley House,
Tabley Lane,
Knutsford,
WA16 0HB
Tel: 01565 750151
Email: [email protected]
Picture credit
Tabley House Trust