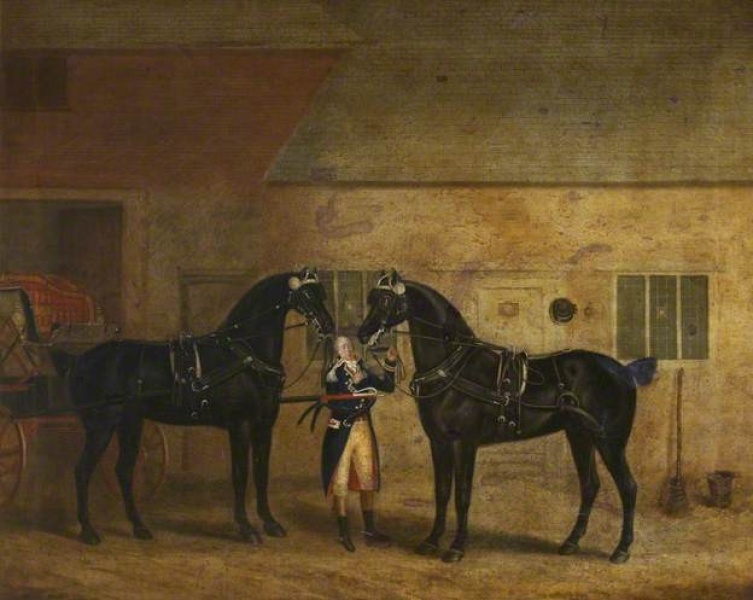 Listed in 1 collection
Listed at 1 museum
Listed for 1 maker
Quick Details
Date of Production
1795
Accession or Inventory Number
NT 353106
Materials used
Paint, Wood, Canvas
Summary of Two Carriages Horses in a Stable
Oil on canvas painting of two black carriage horses standing in a stable yard. A groom is harnessing them to a carriage. Painted by Francis Sartorius (1734-1804).
Full description
Two fine black horses are being harnessed to a Crane Neck Phaeton. The offside horse has been attached to the carriage by the traces and the groom is about to position the nearside horse up against the pole. The horses wear full collar harness with white silk covered rosettes and brow bands on their bridles that matches the trim on the grooms livery coat.
Artists profile
Francis Sartorius was a member of a dynasty of painters. He mostly painted hunting and racing scenes and portraits of hounds and the odd cat. He exhibited at the Royal Academy on numerous occasions. His style is recognisable as being stylised and slightly naïve.
Access information
This painting is in the care of the National Trust, Anthony.
Anthony
Torpoint,
Cornwall,
PL11 2QA
Picture credit
The National Trust