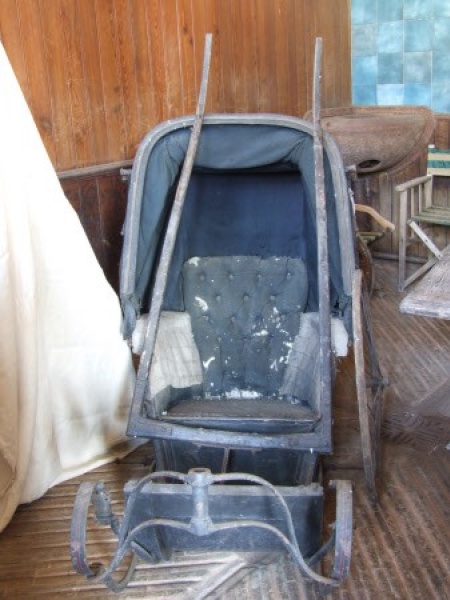 Listed in 1 collection
Listed at 1 museum
Listed for 1 maker
Quick Details
Carriage Type
Invalid Carriage
Date of Production
1838
Accession or Inventory Number
NT 16238
Materials used
Paint, Wood, Iron, Leather, Wool Box Cloth
Summary of Invalid Carriage
Invalid Carriage for a single pony or donkey. This carriage has a black leather covered canvas head. The body has a curved profile and is sprung on C springs. The shafts are probably a later addition as there is a pushing handle at the back and fittings for a steering tiller. Upholstered in blue cloth and painted black with red lining.
Invalid carriages were designed either to be pulled by a small pony or donkey or pushed along by a servant, relative or friend. They gave their occupants the opportunity to take the air around gardens at a leisurely pace.
Dimensions
Height: 3ft 4 1/3"
Length: 7' 9 1/4"
Width: 3ft 1/4"
Full description
This Invalid Carriage has a round-backed cut-under body with a curved profile and a leather head with two pairs of curved joints. The undercarriage consists of two cranes with C springs at each end, which support the body via leather braces. The front wheel is fitted in a fork, which is extended to form the perch bolt, housed in a tube which is attached to the fronts of the cranes by two pairs of stays. The pushing handle is on two stays from the back ends of the cranes. One hind wheel is missing, and the other has been removed so that the hind axle is on the ground. The two surviving wheels are wire bicycle type wheels.
There is a square on the top of the perch bolt that a pulling handle/steering tiller was probably fitted to it. There is a pair of wooden framed shafts with a fitting on the connecting bar that fits on the square. This fitting is so crudely made that it cannot possibly be original.
The Invalid Carriage is painted black with red lining. The head cloth and seat fall are upholstered in dark blue wool cloth. The seat back and quarter squabs, which have been extensively repaired, are covered in the same cloth. The seat cushion is missing and there are a few remains of a carpet on the footboard.
Inscriptions
Front wheel tyre is stamped: JOHN BULL NORTH POLE PATENT HX3
Stamped in the wooden frame of the seat is the date 1838.
Condition report
The body appears to be in sound condition. Much of the paint is secure, but many metal components are rusty with associated paint loss. Both front braces have broken, so the front of the body is resting on the ground. The bottom of the head is stretched by the lower pair of joints being open, and what can be seen of the leather head is in fair condition. The trimming is extensively damaged by moth and possibly by mice or cats, and the "repairs" to the quarter squabs are of a very poor standard.
Access information
This Invalid Chair is in the care of the National Trust at Tyntesfield House.
Wraxall,
Bristol,
North Somerset,
BS48 1NX
Picture credit
The National Trust